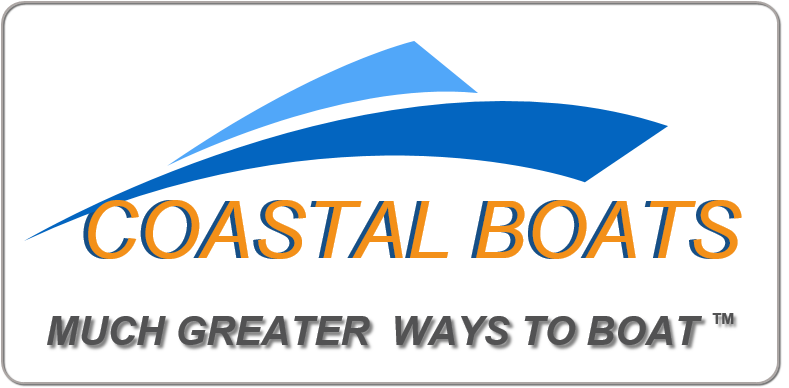 info@boatsbycoastal.com

32' DAYBOAT - A MODERN CLASSIC.
Classic elegance combined with offshore capability in all but extreme conditions these boats are suitable for waters such as open Baltic type water, long distance runs in the Med and most of coastal New Zealand, Australia etc.
The design concept was inspired by the classic Italian and US powerboats of the 1950's and 60's; the challenge was to combine the aesthetics of that era with the most modern construction techniques and materials. Garry Lidgard of Lidgard Designs has designed a high performance offshore capable vessel, that would also look quite at home touring the protected waters of the Pittwater or inner bays of Sydney Harbour. The offshore requirement dictated the overall proportions of the boat and the Dayboat 32 has demonstrated exciting performance in open and sheltered water conditions. Generous flared bow sections and freeboard ensure a smooth and dry ride. The cockpit, sun deck and luxurious double berth and head are a balance of comfort, practicality and maximisation of space.
37+ knots has been achieved by the installation of a pair of in-line six cylinder turbo-charged diesel engines. The engines are supported on robust bearers and housed in a thickly insulated engine space. The sun deck hatches have been designed to open fully providing total engine accessibility for general maintenance. Large areas of the hull have been retained as sealed, positive buoyancy chambers and all open deck spaces are self draining. Low, vertical, centre of gravity coupled with high stability ensures fast and safe passage in open waters.
The Dayboat 32 has the appearance of a classic timber boat. In actual fact, it is constructed with high performance epoxy composite materials, overlaid with exquisite 8 mm mahogany deck and topsides, and an impeccable clear finished 2 pack system consisting of 22 coats in all. The hull is constructed with Composite strip Planking, a combination of balsa cored strips in the bottom and foam cored strips in the topsides. The strip planking is pre-made with a uni-directional E-fibreglass on either side of the cores. The unidirectional fibre allows the planks to conform readily to the complex contours of this design and increased the stability when turning the hull. For the Dayboat 32 edge gluing of the strip planks is done with a high strength, epoxy adhesive.
Laminating Epoxy is used to laminate a combination of E-fibreglass and aramid reinforcements to the inside and outside to complete the hull structure, and for taping throughout the boat. Decks, bulkheads, interior parts are constructed with pre-made foam Panels with designer specified laminates to best meet weight targets and stress/impact loads. The result of all this is a super tough, lightweight, superbly built boat of great style and quality.
Base price starts at only US$185,000 with twin Indmar or Mercruiser 320HP gasoline engines. Options for twin diesels, American cherry interior fit-out and leather upholstery.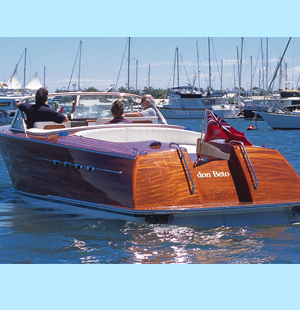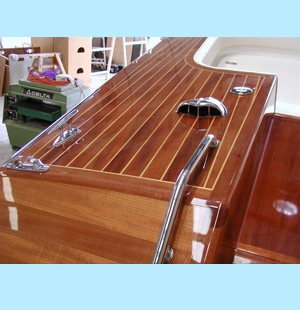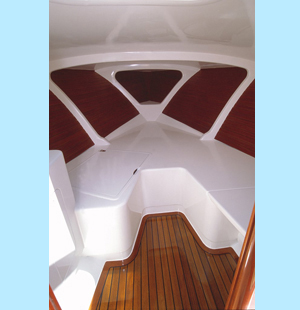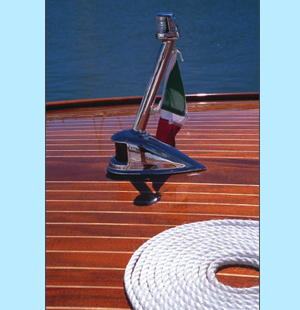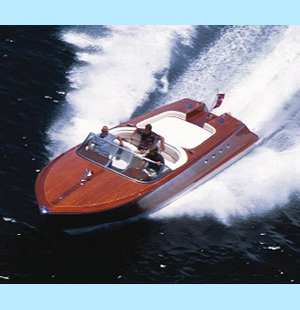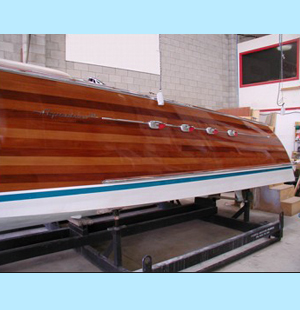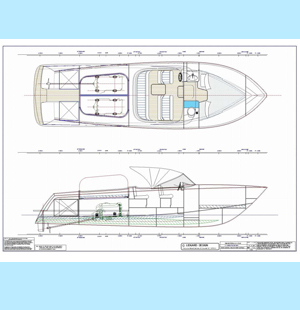 Boats we can
Custom Build for you